2019 Andrew Jones Travel Showcase
The Andrew Jones Travel Showcase is on again in 2019!
Join us for a range of information sessions, from 21 – 24 January, as we discover some of the most amazing destinations you can visit in 2019 and beyond!
---
Monday 21st – Thursday 24th January 2019
The Old Woolstore | 1 Macquarie Street, Hobart
---
6pm, Monday 21 January
South America

Join Andrew Jones Travel experts Alan Riedel and Rose Hurle for a journey into the destinations that throw you head first into the experience. Walk in the footsteps of Darwin in the Galapagos Islands; climb to new heights and discover Machu Picchu; immerse your senses in cities such as Rio and Buenos Aires; and explore the icy areas of Patagonia including Ushuaia, the Southern Fjords, and Torres del Paine National Park. This vibrant and colourful continent is just waiting to be explored!
---
6pm, Tuesday 22 January
The Kimberleys with Ponant Luxury Cruises

Join us, along with Craig from Ponant, to discover the wild and grandiose landscapes of Australia's last untouched region. Discover the mangrove forests and saltwater crocodiles of the Hunter River; the King George River & Twin Falls; Horizontal Falls; Montgomery Reef; and so much more.
Set sail with Ponant on a five-star luxurious expedition ship and enjoy an experience that is both authentic and sophisticated.
---
6pm, Wednesday 23 January
Greece & Croatia with Sun Island Tours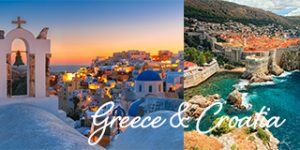 Discover the historic sites of Greece in Athens, Delphi, Meteora and Olympia, and on the islands. Relax on the beaches and stroll around picturesque white-washed buildings. Immerse yourself in the laid back, cosmopolitan lifestyle of the islands, and the beautiful cove beaches, stunning harbours, and unique cultures.
Enjoy the beautiful views over Croatia from the bell tower of each historic city. Embark on a small ship cruise along the famous Dalmatian coastline, and wander the city walls of Dubrovnik, the Diocletian Palace of Split, the bustling capital of Zagreb, and the brightly coloured waters of Plitvice Lakes.
---
6pm, Thursday 24 January
Italy & Malta with Sun Island Tours
Whether you are a returning or first time visitor to Italy, there is always something new to be discovered. From the famous sites of the Colosseum, Leaning Tower of Pisa, Duomo of Florence, and St Marks Basilica, to the less explored areas on Italy's backroads. Journey to cities built into ancient caves, and explore dramatic coastlines, majestic lakes, active volcanoes, and rolling green hills.
Your days on the sun-soaked island of Malta will consist of exploring UNESCO World Heritage Sites, escaping the heat under large umbrellas for long lazy lunches, rejuvenating siestas, and relaxing on one of the island's many beaches.
---