Norway
Norway is a country of stunning landscapes, rich history and unique experiences.
Part of Scandinavia, Norway is perfect as a standalone destination, or can be combined with trips to Sweden, Denmark, or anywhere else in Europe. This is by no means an exhaustive list of where you can visit on your trip to Norway, but here a few suggestions to get you started!
Oslo
The capital of Norway is Oslo, which sits on the southern coast. It's compact and easy to get around with public transport, on foot or by bicycle.  There is plenty to keep you busy, with festivals, interesting architecture, cultural activities and an emerging gastronomy scene. One of the unmissable highlights is Vigeland Park – the world's largest sculpture park. The park contains over 200 incredible sculptures of the human form, made from bronze, iron and granite, which make up Gustav Vigeland's life work.
Bergen
Norway's second largest city, Bergen is perched on the southwest coast, connecting mountain and ocean. Once an important trade port, today Bergen has an understated, small-town feel with a large student population and plenty to do. Bergen's Viking roots are still evident and it is now home to museums, art galleries, cultural events and a world-class dining scene. With easy access to the mountains and sea, it makes for a great base for adventure activities.
Flåm
Travellers flock to Flåm, which sits on the innermost bank of the Aurlandsfjord. Journey to the Stegastein viewing platform that extends 30 metres out of the mountainside andprovides an incredible panoramic view of the fjords. Experience the famous Flåmsbana (Flåm Railway), voted by Lonely Planet as the world's most incredible train journey in 2014. Twenty kilometers of train track cuts through deep ravines and coasts by incredible waterfalls, clinging to the steep hillsides. For something a little slower, try your hand at fishing in the Flåmselvi River, or cycle Rallarvegen one of the most scenic cycling routes in Norway.
Trondheim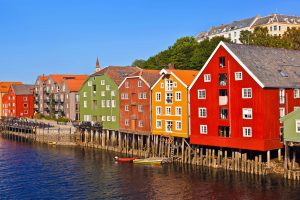 Further north is Trondheim that boasts many bike paths to explore the city centre and beyond. Stop to explore the many cafes, museums and art galleries. Trondheim hosts numerous music festivals throughout the year and is home to Norway's most popular farmers' market – a great place to sit, try some local produce, and get to know the locals. Get your history fix at Nidarosdomen (Nidaros Cathedral), built over the grave of Norway's patron saint, St. Olav. It is a popular site for pilgrims, and hosts many evening mass services during summer.
Lofoten Islands
Across the Arctic Circle, the Lofoten Islands offer unparalleled natural experiences, with landscapes you won't see anywhere else in the world. The diversity allows for skiing, hiking, kayaking, fishing, ocean rafting or scuba diving. This is one of the most incredible areas in which to see the Northern Lights in winter, or you could try a spot of golf under the Midnight Sun in summer! Experience Viking life at The Lofotr Viking Museum, a living museum built within the largest longhouse ever unearthed by archeologists.
Tromsø
Tromsø, the 'gateway to the Arctic' (350kms north of the Arctic Circle), features an alluring mix of nature and culture. The city centre is just a stones throw from pristine wilderness. A fairly modern city, Tromsø is famous for the numerous restaurants that highlight the cuisine of the Arctic region. There is no lack of outdoorsy activities such as dog sledding, kayaking, whale safaris, and hiking. Tromsø is also home to the Northern Lights Festival, held in the last week of January every year.
Ålesund
Ålesund is one of the most visited cities in Norway; instantly recognisable due to its art-deco style and the mountains that tower 2000 metres straight out of the sea. Ålesund is the capital of adventure travel, sitting at the entrance to the Geirangerfjord, a UNESCO World Heritage protected area. The city makes a great base for exploring rugged surrounding areas, then returning at the end of the day to delight in the city's burgeoning food & drink scene. For unparalleled views, walk the 418 steps to Aksla.
Kirkenes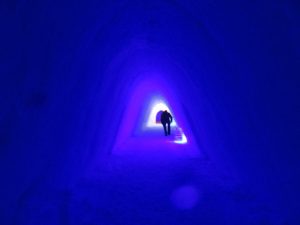 Kirkenes sits on the border of Norway and Russia, and is home to many unique Arctic attractions. A true reflection of Norwegian style art, the Steilneset Memorial to the witch trials is worth a visit, with its long building housing the museum and an interesting monument. Bird watching is a popular activity in the summer months, with one of Norway's largest nesting sites here. In the winter months, the Kirkenes Snow Hotel is built from scratch out of snow and ice. In this season, you can enjoy dog-sledding, snowmobile tours, ice-fishing and king crab fishing.
Svalbard
Above Norway, Svalbard is a beautiful archipelago, known for Arctic nature, rich wildlife, and old mining towns. The small, yet vibrant community of Longyearbyen is home to a wide range of industries and activities, culinary experiences and exhibitions. Nearly two-thirds of Svalbard is protected land, and includes national parks and bird sanctuaries.
---
One of the most unique ways to discover Norway is on the Norwegian Coastal Express – a Hurtigruten ferry. Established in 1893, Hurtigruten connects 34 ports between Bergen and Kirkenes and is now one of the top tourist activities in Norway. The itinerary provides great flexibility, allowing you to complete the whole route in one go, or jump off and spend a few days in one port before travelling onwards. Hurtigruten are the only company that service many of these ports. The fleet still operate as working ships, delivering post, food and an array of other goodies up the coast.
There is plenty to do all over Norway, whether you would like to experience the long light-filled summer days, or the snow-blanketed winter landscapes. Rich Sami and Viking history is around every corner, intermingled with a wonderful art and an emerging gastronomic scene. Easily combined with any European itineraries, or as a stand-alone destination, add Norway to your travel bucketlist !