Contact us
ANDREW JONES TRAVEL
Hobart
1st floor, 61 Salamanca Place
Hobart, Tasmania 7000
ph 03 6221 3499
hobart@ajtravel.com.au

Opening hours: Monday to Friday, 8.45am-5pm
Please be aware that our Hobart office is located on Level 1 and is only accessible by stairs. We are more than happy to make alternative arrangements if this is not suitable.
Hobart office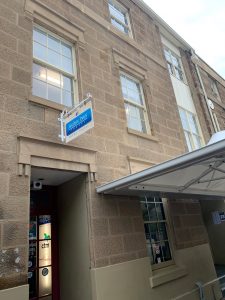 Launceston
44 Charles Street
Launceston, Tasmania 7250
ph 03 6331 1214
launceston@ajtravel.com.au
Map
Opening hours: Monday to Friday, 8.45am-5pm
Launceston office

---
CTM TASMANIA
2nd floor, 61 Salamanca Place
Hobart, Tasmania 7000
ph 03 6221 3400
fax 03 6224 4286
corporate@travelctm.com
Opening hours: Monday to Friday, 8:30am-5:00pm
Or contact us via this form. We will endeavour to respond shortly.