Mon is charmed by Iceland in Autumn
In September I travelled to the amazing destination of Iceland with Collette Tours. I left with a level of uncertainty as to what I may expect to see and what I discovered was a truly magnificent diverse destination filled with breathtaking scenery, soaring mountain ranges, cascading waterfalls, glaciers and the picturesque city of Reykjavik and the bonus of travelling at this time of year we got to see the beautiful Autumn colours cast over the contrasting landscapes we were visiting.
Reykjavik is the capital city of Iceland and is a compact and safe city that's easy to navigate. Filled with colourful buildings, unique architecture (Harpa Concert Hall, Hallgrimskirkja Church just a few examples), art galleries, fantastic restaurants and funky little coffee shops there is plenty to delight and Reykjavik is very similar in size to Hobart. The climate in Iceland can change quickly (pretty much like here in Tasmania) so you will find that layers are the best way to travel and comfortable walking shoes are a must!
After our stay in Reykjavik, we travelled the Golden Circle route where we got to experience the natural wonders of geysers, lava fields, the impressive Gullfoss Falls. We visited a local dairy farm and met with  the family who taught us about their farming practices and sampling their produce Skyr which is the Icelandic Dairy product found in yoghurts, ice creams. Froheimar Greenhouse Cultivation centre was another stop on this day, where they grow pesticide free tomatoes using Iceland's geothermal energy to assist in the growing process. We got to taste the best organic tomato soup together with organic homemade bread. You could even try their tomato beer.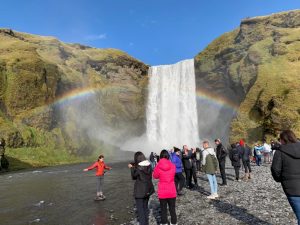 Our next stay was a placed called Vik located on the southern shore of Iceland. From here we did day trips to various sites, driving along absolutely stunning mountainous scenery, volcanos in the distance, waterfalls (Skogafoss Waterfall, one of the largest in Iceland) and glaciers. Visits included Skogar Museum with the turf built houses, the Lava Exhibition Centre was a fantastic and informative experience that explains how Iceland was formed and the effects to the landscape erupting volcanos have. We also cruised on Jokulsarlon Glacial Lagoon where we cruised past icebergs floating in the lake and even tasted 1,000 year old ice from the glaciers that surround. Another magnificent highlight that I was lucky enough to experience was the seeing the Northern Lights as they appeared and moved in the sky — truly breathtaking!
Before returning home to Australia we spent time in the milky, light turquoise blue, hot springs of the Blue Lagoon. This was a wonderful and invigorating way to finish our week in Iceland and a definite on your list of things to experience when visiting Iceland.
– Mon, Travel Specialist Hobart
I would love to share my experiences in this beautiful part of the world with you!