East Coast, Tasmania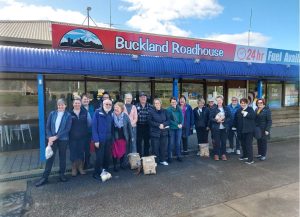 By CATHI BURNETT COSGROVE, July 2021
The travel experts at Andrew Jones Travel (AJT) and The Compass Society have rallied together in support of local east coast Tasmanian businesses following the closure of the Tasman Highway.
In May this year, the Tasmanian Government announced that hazardous rockfall has caused a several week-long closure of the Tasman Highway between Hobart and the seaside town of Orford. As a result, many local tourism operators experienced significant losses in revenue that would normally be generated from passing traffic.
Having felt the effects of travel restrictions during the COVID-19 pandemic, the team at AJT showed support for their industry peers by creating a unique 3-day tour to raise money for impacted operators once the roadblock had been lifted.
The Great Escape to Support the East Coast departed Hobart on Saturday 3rd July, visiting several local businesses before returning on Monday 5th July.
All profits generated by the tour were donated directly to the businesses affected, with AJT Travel Designer and Tour Escort, Cathi Burnett-Cosgrove, volunteering her time for the cause.
In true Tassie spirit, other operators such as Belbin's Bus Services offered their services for cost-price, meaning that every dollar raised by the tour went directly to those in need.
In total, the tour injected more than $20,000 into the local community supporting the following businesses: Spring Bay Mill, Orford Blue Waters Motel, Eastcoaster Resort, Boomer Creek Vineyard, Darlington Vineyard, East Coast Cruises, Twamley Farm, Buckland Road House, Buckland Church and a variety of local cafes and pubs.
Andrew Jones Travel and The Compass Society would like to thank everyone involved in this community event for making The Great Escape to the East Coast such a wonderful success.