Your 2019 Travel Bucket List
Our staff spend many wonderful weeks every year travelling. When we aren't booking your holidays or travelling ourselves, we are thinking about travelling!
So if you are stuck for ideas on where to go in 2019, keep reading for some beautiful travel inspiration!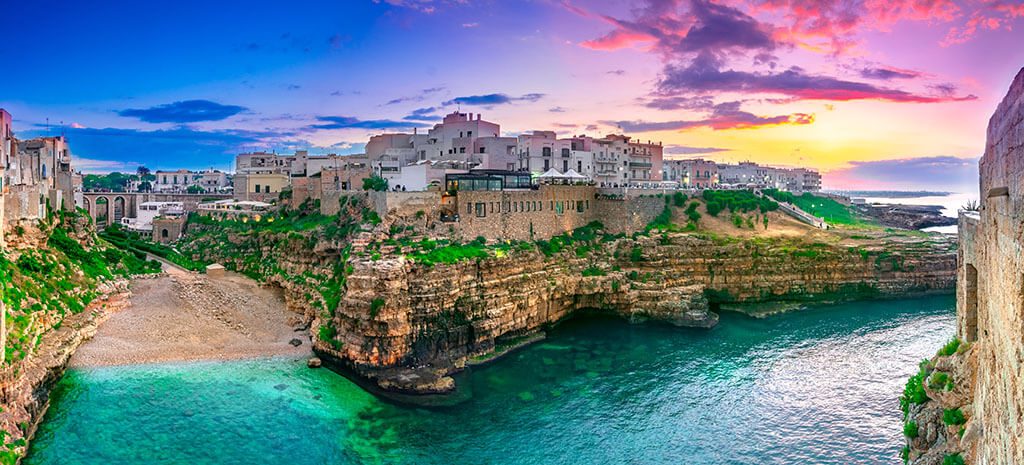 Puglia, Italy
Puglia forms the 'heel of the boot' of Italy, comprising of old white washed towns, luscious farmland, and dramatic Mediterranean coastline that stretches out for hundreds of kilometres.
This part of Italy hasn't been hit by mass tourists yet. The area has so much to offer from coastal fishing villages to explore, to the Trulli building of Alberobello, and the fascinating town of Matera – constructed of a mass of cave dwellings (sassi), where people still live today.
Fresh seafood is abundant, and the smell of freshly baked bread follows you down narrow streets, and the pizza is hand stretched and plentiful. Life moves a little slower here, giving you a taste of traditional life. Go for early morning starts for sightseeing and shopping (though not too early, you are on holiday!), and look forward to long afternoon siestas, perfect for relaxing on the beach, or napping in the shade.
 
Galapagos Islands
Visiting the Galapagos Islands is an incredible experience.
You'll have the chance to see the local wild life up close and personal whilst it's in its natural habitat undisturbed by humans.
Swim with sea lions who are going about their everyday activities, but also keen to play around and impress you. Ride the ocean current with sea turtles and realise just how big and relaxed they really are. Walk the islands – but try not to trip over the huge number of sealions and iguanas, as you also look up at the fascinating bird life.
Embark on a seven night cruise to make the most of everything the area has to offer and see as much diverse wild life and landscapes as possible.
It will be a relativity active holiday with plenty of snorkelling and walks but you can take time out where needed.
So, pack your bag with plenty of sunscreen, a good hat and of course your camera and take yourself to the Galapagos!

The Kimberley's, Australia
The Kimberley is perhaps Australia's most dramatic and scenic region. What sometimes feels like a world away is easily accessible from Darwin or Broome. You can explore this region by sea or land, and we often see clients return to see the Kimberley's from the other side.
The size of this area is truly mind boggling, and the landscape changes so much between each landing. With key sights of the Horizontal Falls, Kings Canyon, helicopter rides, and the fascinating Bungle Bungle Range.
This is a region that is best to explore by organised tour – the remoteness and vastness do not lend well to independent travel.
Cruising makes this destination very easy, with the 'unpack once' advantage, while on land, you will find a plethora of luxurious accommodation, akin to the luxury tent camps you might find in Africa.
Of course, a highlight of this region is not only the landscape, but also the culture that you will find. Learn about the lives and history of Indigenous Australians, be touched by the stories of the Dreamtime, and be transported back in time. You will also be absolutely delighted by the wildlife you will find in this region. This was an absolute highlight of mine – all the whales, birds, crocodiles, sharks, turtles and more!
 
Zakynthos, Greece 
Greece is experiencing a resurgence as a major tourist destination, however it is all about 'how' you experience Greece..
Athens remains a city that successfully combines both ancient history and a modern twist in lifestyle and culture.
Many believe that the true Greek experience lies within its islands.
Of course, Mykonos and Santorini have always been in the limelight, and for good reason but it is Zakynthos that has presented itself as an island of choice for both locals and international travellers.  It's here that you can still easily get off the beaten track and escape the crowds. If you want to get away from the mass tourism for a slice of island life, I recommend heading to Zakynthos. It is also known as the Flower of the East, Zakynthos is known for its endless beaches, shipwrecks, traditional villages, and forested wilderness. When you imagine that perfect turquoise water of Greek Islands, think of Zakynthos!
 
Malta & Gozo
Malta sits on an archipelago between Italy and North Africa in the Mediterranean Sea. You can get to Malta by plane or ferry, and it is increasingly being included in many cruise itineraries. Malta is a wonderful getaway to include into your European holiday, or as a standalone destination.
Most of the tourists here are European, lending it a feeling of being 'untouched' since ancient times.  These stunning old stone buildings, smooth cobble-stones, and old-world charm combine incredibly with an island getaway.
You'll need to pack good sun cover and great walking shoes, as this gorgeous island is soaked in sunlight nearly every day of the year. You can expect your days to consist of spending your mornings exploring the UNESCO World Heritage Sites, escaping the sunlight under large umbrellas for a lazy long lunch, make the most of a rejuvenating siesta, and then spend your afternoon relaxing and splashing at one of the island's many beaches. Must do attractions include Mosta to the north of Valletta; the town of Ta'Qali where you will see local handicrafts being made; and Mdina, the ancient capital of Malta. Also known as 'The Silent City' due to it's quiet, narrow, cobble-stone streets, Mdina sits on a hill in the centre of the island, so you can see incredible views of the Maltese landscape, and visit the best medieval fortifications that house the ancient city.
There is plenty to explore further afield as well. Why not spend half a day on Gozo Island, an easy 20 minute ferry ride from Valetta? Gozo is a little more scenic and greener than Malta. Here you will find the National Shrine of the Blessed Virgin of Ta'Pinu. The Shrine is perched on the edge of a cliff, which allows for sweeping views of the area. Enjoy a short boat ride around Dwejra Bay, where you will find a towering limestone arch over the water, as well as gorgeous water views of the island and the Inland Sea. Then visit the Cittadella, a historic fortified city in the middle of Victoria, the capital of Gozo.
---
Want to know more about any of these destinations, or get in touch with your local travel expert? Click here to contact us!